Refusing the Scale at the Doctor's Office
Refusing the Scale at the Doctor's Office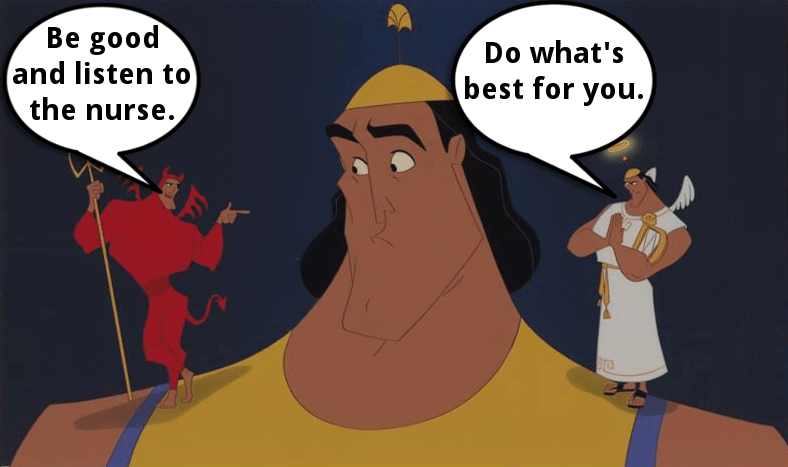 When I finally gave up the scale and put it in a dark corner of my closet, I thought that that would be the end the scale's power over me. I had not anticipated being asked to step on a scale at a doctor's office and the dilemma that ensued between wanting to do what my doctor asked and my personal decision to not be guided by the number on the scale.
When I was dieting, I would have minor freak outs leading up my doctor's appointments. I knew that once the nurse called my name, I'd be asked to step on the scale. My weighing routine was to weigh myself first thing in the morning before eating and I always wore the same thing. It was consistent, and, therefore I believed it to be the most accurate measurement. Because I held this number is such high regard, I wanted it to be as low as possible to show as much weight loss as possible, and weight loss equaled success. I knew that weighing myself under different conditions than my morning routine would impact the number negatively.
I tried to calm myself by turning to the rational part of my brain. I would tell myself that I was wearing more clothes and eaten something already that day, so of course I would weigh more. I even reminded myself that no two scales are identical, so I couldn't expect be the same exact weight at home and at the doctor's office. My rational brain fought my irrational brain. If you've ever seen Kronk's shoulder angel fighting with his shoulder devil in The Emperor's New Groove, then you know what I'm talking about.1 In the end, my irrational brain won and the freak out continued.
At my first appointment after starting intuitive eating, I decided to let the nurse weigh me. I bounced back and forth between standing on the scale backwards or looking away from the display. I went with option #2. I felt like I wasn't rebelling against authority and I wouldn't have to worry about that pesky number. It was win-win! I thought I was in the clear. A few days later, my doctor sent me a courtesy email summarizing my visit and, yes, it included my weight. Though seeing the number didn't send me into a downward spiral, from that point on I just refused to be weighed.
Now when my name is called for my appointment, I dismissively wave my hand at the scale and tell the nurse that I don't need to be weighed. I thought I would get some pushback with this, but it has never had an issue for me. I would only make an exception for pregnancy2 or if the doctor needs to know my weight for a specific dosage of medication. Though I am in a much better place mentally than before, I don't want to put myself in temptation's line of sight. Ya know, just in case.
How do you handle a doctor's office asking for your weight? Do you feel triggered? Please share in the comment section below.
1And for your viewing pleasure, here's a clip of Kronk's internal conflict!
2My eggs are pretty shriveled up at this point, so this is unlikely.
Thank you so much for reading my blog! I am honored that you chose to read about my experience.

You've made it this far. Now subscribe for regular updates. It's easy! And you get a FREE Intuitive Eating quiz when you sign up!