Fighting Food Rules
Fighting Food Rules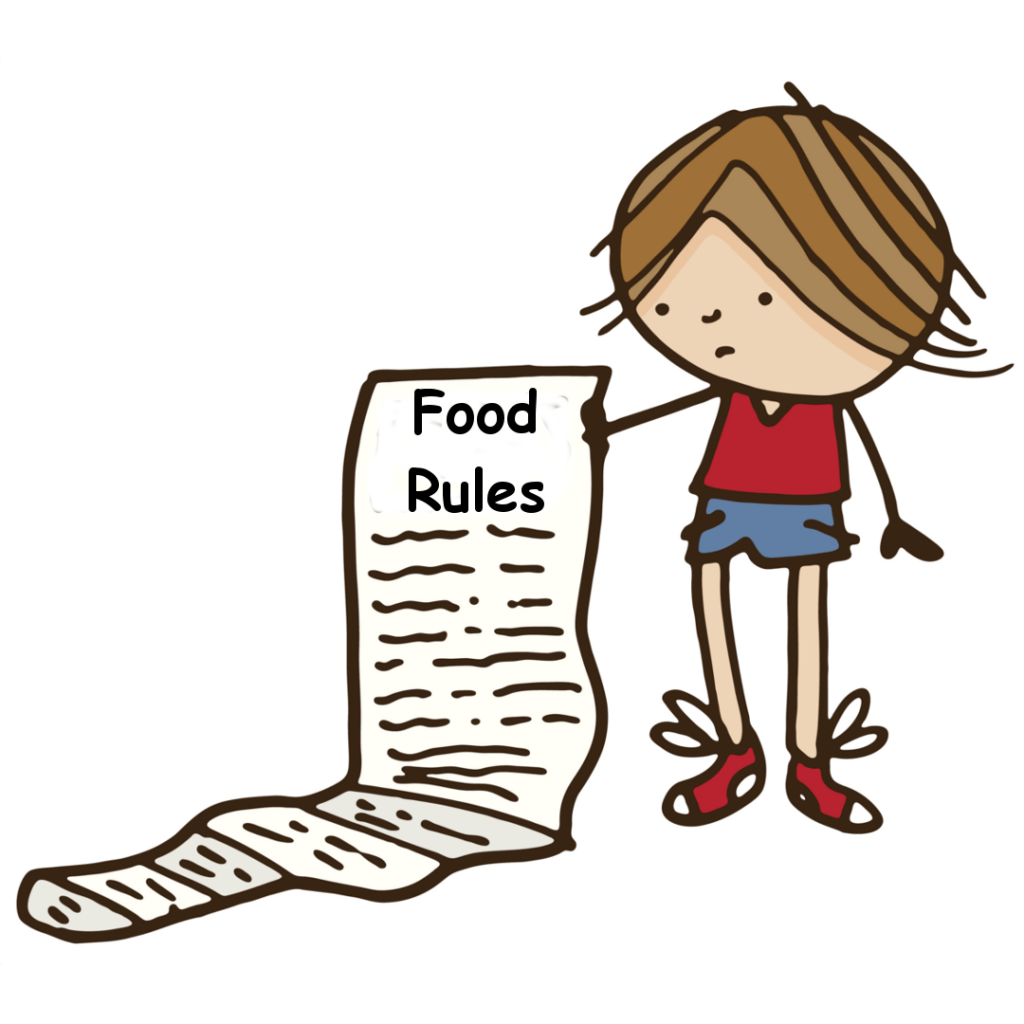 If you watch a typical infant eat, you will see an intuitive eater. The child will cry when hungry and turn its head from the breast or bottle when full. As we grow up in western society, we learn food rules. Whether imposed by our family members or suggested by the dieting industry, these rules change our relationship with food.
When I was dieting, food rules ruled my life. From when to eat to how much to eat, they guided me from the second my eyes fluttered open in the morning to the moment they shut in the evening. At first it was comforting. My Type A personality craves structure and having a plan in any part of my life makes me feel calmer and in control. The diet plan of choice for me was Weight Watchers. It lured me in with its so-called flexibility when it was an honest-to-goodness diet. I was told I could use my "points"1 in any way I chose. Hell, I could even earn "points" through exercise. Although I told myself I was being healthy, I really was creating the foundation for a disordered relationship with food. What had started as a few rules slowly evolved into an unyielding laundry list of do's and don'ts.
When I realized how miserable I was and decided that I had had enough of dieting, I knew I had to slowly chip away at my rigid set of rules. This was no easy task because my list of rules was quite extensive and had been ingrained in my mind for so long. Just look at how dieting controlled my life!
Diets told me what to eat. Every diet comes with a checklist of what to eat and what not to eat. Eat this but not that. This only vilified food and made me feel guilty when I broke the rules.2
Diets told me when to eat. I felt I had to eat at certain times during the day. Lunch was at lunchtime and that was that. If I didn't eat then, I'd feel mentally uncomfortable. Like something was amiss. Once I realized that mealtimes are arbitrary, I began to feel more relaxed about eating when hungry rather than according to the clock.
Diets told me how much to eat. Weight Watchers focused on serving sizes and calories which led to my obsession with numbers. If I didn't eat exactly a whole serving, I fretted about how many calories I was consuming.
Diets told me how much to exercise.3

I felt like I had to burn as many calories as possible at the gym. I created a minimum goal and would make myself stay until I reach that number or more. It didn't matter if I was tired or feeling under the weather, I would still go. Rather than listening my body saying "let's rest today",

4

I let the number of calories burned flashing on my heart rate monitor control my workout.

Dieting encouraged me to create my own crazy food rules.
Deborah's Crazy Food Rule #1: I felt like I had to finish off the container if there was only a little bit of food left. Likewise, I always had an urge to drink all of the milk by the end of the week before I went to the grocery store for more. I think it was about finding closure but in a very disordered sort of way.

Deborah's Crazy Food Rule #2: I felt like I had to eat

two slices of toast instead of one because the toaster had two slots. Maybe it was a habit. Maybe the toaster seemed incomplete with one empty slot. Either way, I had to tell myself that one piece of toast is perfectly fine.
It took me over a year to overcome these rules.5 I went about it using baby steps and worked on loosening up one pesky food rule at a time. Instead of forcing myself to wait until lunch to eat, I began allowing myself a small mid-morning snack. I gave myself permission to eat a few extra nuts above and beyond a serving size.6 Rather than having a firm, one hour workout rule, I made an agreement with myself to stop 5 minutes early so I could understand that nothing awful would happen if I didn't workout for a full 60 minutes.
Once I allowed myself the gift of true flexibility and gave myself permission to eat in a way that honored my body, my food rules slowly began to fade. Thankfully, the wall of rules I had built for myself crumbled and is now part of my past.
What crazy food rules did you follow while dieting? How did you escape them? Please share in the comment section below.