Meet Deborah
Meet Deborah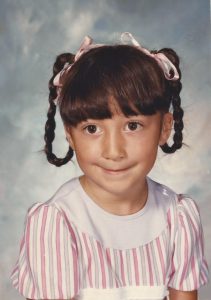 About two months ago, I asked my husband to write an "All About Me" blurb, not because I was lazy but because I was curious about what he thought were the pertinent points of my life. Well, two months have come and gone and he hasn't gotten around to it because he's working on his own business 24/7. I'd be upset at him if he were playing video games all day, but he's actually extremely busy. So rather than having my husband take the time to type something up, I will interview myself instead!
Deborah, what is your background with Intuitive Eating (IE)?
I'm so glad to be here, Deborah! Thank you for having me.
I read the book Almost Anorexic and saw myself in much of that book. I made an appointment with my physician, and she referred me to a dietitian who specialized in disordered eating. I had my first appointment in June 2015 and was introduced to IE at that time. For additional support, I joined the IE forum on June 5, 2015 under the screen name Eeza and I haven't looked back since. The forum was like therapy between my therapy appointments. The community is very supportive, and I felt like I learned so much from the other members. I would not have gotten as far as I am today without their support.
Upon recommendation of the moderator at the time1, I became the new IE forum moderator in March 2017.
So, what makes you think that you can be an IE counselor?
As I continued to grow as an intuitive eater, I was the one helping the newcomers. Some of the newcomers stuck with it and others disappeared from the forum. For the ones who stayed, I felt like my suggestions helped them move forward, even just a little bit. I realized that I very much enjoyed helping the newcomers through their own IE journey and the idea of IE counseling began bouncing around in my mind. I was certified to be an IE counselor in May 2017.
Update (October 2018): As much as I enjoy working with IE newcomers, I unfortunately am not able to continue counseling. However, I still support newcomers by communicating via email, social media, and through this amazing blog!
You've mentioned yoga on the website. When will we start to see some yoga content on your website?
I finished my 200 hour yoga teacher training program through Mind Body Zone2 in Fremont, CA in November 2017. My plan is to post videos of yoga postures, how to modify postures, and yoga sequences. My husband will be my guinea pig, so you will be able to see him struggle and sweat!
Damn, you sound busy! When you have free time, what do you do?
I tend to stay at home a lot. I know that sounds boring, but I need down time to rejuvenate. I am an amateur knitter, play the guitar and piano poorly, read occasionally, make a daily attempt to meditate, often get lost on Sporcle.com, and go on to elephants.com in hopes of getting a glimpse of some of the elephants through the elecam. You may find me in the kitchen doing Sudoku, word searches, or crosswords while my dinner cooks or while I'm waiting for my baked goods to finish up in the oven. I have been a vegetarian for ethical reasons since November 2013. My husband tried it out but couldn't hang. So, I beam with pride when he tells me that he thoroughly enjoyed one of my meatless dishes!3
I enjoy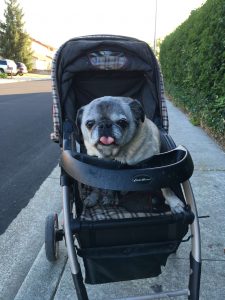 movement in my day, so I may be at the gym doing my one-person spin class4, throwing around some girl-sized weights, or doing yoga. The outdoors isn't bad either. I find listening to the birds and feeling the wind on my face while on my bicycle to be quite soothing. My husband and I stroll around our neighborhood in the evening, and my ancient dog enjoys being pushed around in a used stroller I found at the thrift store for $10.5
Ah, I see you're an introvert. What a coincidence! So am I! Now, is there anything background info that you'd like to share?
Yes! I was in the public education system for 15 years. I started off as an elementary school teacher. Though I enjoyed teaching, I felt like I wanted to work with students more individually or in smaller groups. I decided to become a school psychologist where I could assess students for special education and provide individual and group counseling services. I conducted several groups at the high school level including social skills for students with autism, stress management, and body image. I decided to become a licensed educational psychologist in January 2017 so I could also assess and counsel privately.
Despite enjoying aspects of being a teacher and a school psychologist, I decided that the public education system was not doing it for me. The system has many flaws and, as one person, I cannot fix it. I felt frustrated and needed a break from the stress of being in such a system. After considering my mental and physical health, I decided to take a leave of absence for the 2017-2018 school year to focus on me for a change. Part of that is IE counseling with a splash of yoga. The other part is simply learning to enjoy life!
Finally, what's with all of the footnotes ?
I read the book Such a Pretty Fat by Jen Lancaster years ago and she used footnotes to add in quips here and there. They amused me. I then read the Spellman series by Lisa Lutz and she also used footnotes. I was further amused. My blog is a way for you to know my inner thoughts. The footnotes are my inner inner thoughts!
Deborah, I appreciate you taking the time out of your busy day to speak to me!
No problem, Deborah! I'm more than happy to share a bit of myself with you and your readers.